Dr Philippe Fauquet-Alekhine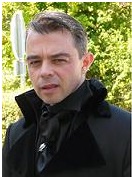 Philippe Fauquet-Alekhine's research addresses mainly the improvement of occupational training through simulation for teams operating complex systems (e.g. aircraft, nuclear reactor, medical operating theatres). For this purpose he has developed the Square of Percieved Action model in the frame of Activity Theory and implements an innovative protocol to access what facilitates competencies of (co)workers. He pays particular attention to stress effects in both training contexts and real operating situations.
He has more than 20 years experience in work activity analysis and research applied to human performance within high risk industries. His work also concerns more specific aspects, such as the psycho-linguistic approach of work activity analysis.
While he is currently Human Factors Consultant at Chinon nuclear power plant in France, he also works with the Medical Training Centre of Angers, and the French Air Force. Holding a PhD and an MSc in Physics, an MSc in Work Psychology, and a PhD in Behavioral Psychology, he has a strong background both in engineering and in the human sciences.